Typical applications: Very flexible construction with a high breaking load. Hoist rope for electrical hoist and other
lifting devices, where rotation resistant ropes are not required.

Design: Ordinary lay and Lang's lay. Ordinary right hand lay, ordinary left hand lay can be offered.

Fill factor: 0,64.
Standard: EN 12385-4
ISO 4309 Rope Category No: 4-5mm RCN.02, 5,5-6.5mm RCN.07, 7-28mm RCN.08



WARNING! Must never be used with a swivel.
Rope construction: 8 strand rope in parallel lay construction made out of conventional strands.
Finish: Bright oiled. Available galvanized.
Note: Due to its particular full unilay parallel closing (outer/inner strands), this rope is very sensible to the rotation and fleet angle. Cannot be used for big lifting heights, unguided loads a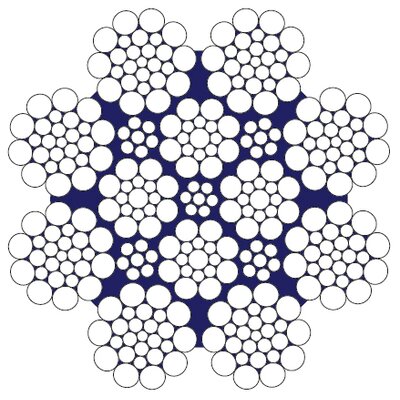 Currently this product cannot be added to an online quote. Please contact us directly for enquires.
| | | | | | |
| --- | --- | --- | --- | --- | --- |
| rope | steel | min breaking force | | | mass |
| Ø mm | area mm2 | 1770 N/mm2 kN | 1960 N/mm2 kN | 2160 N/mm2 kN | kg/m |
| 4 | 8,0 | 11,7 | 13,0 | 14,3 | 0,07 |
| 4,5 | 10,0 | 15,1 | 16,7 | 18,4 | 0,09 |
| 5 | 12,3 | 19,0 | 21,1 | 23,2 | 0,11 |
| 5,5 | 14,8 | 23,6 | 26,1 | 28,8 | 0,13 |
| 6 | 18,2 | 28,5 | 31,5 | 34,7 | 0,16 |
| 6,5 | 22,4 | 34,2 | 37,9 | 41,8 | 0,19 |
| 7 | 24,9 | 38,5 | 42,6 | 47,0 | 0,21 |
| 7,5 | 28,5 | 44,8 | 49,6 | 54,6 | 0,25 |
| 8 | 33,0 | 49,6 | 55,0 | 60,6 | 0,28 |
| 8,5 | 37,1 | 53,0 | 58,7 | 64,6 | 0,32 |
| 9 | 41,4 | 65,0 | 72,0 | 79,3 | 0,36 |
| 10 | 50,2 | 78,8 | 87,3 | 92,5 | 0,43 |
| 11 | 63,6 | 96,8 | 107,2 | 117,0 | 0,55 |
| 12 | 74,9 | 114,0 | 126,3 | 137,8 | 0,64 |
| 12,7 | 83,1 | 126,4 | 139,9 | 152,6 | 0,71 |
| 13 | 87,0 | 132,4 | 146,6 | 159,9 | 0,75 |
| 14 | 100,2 | 152,4 | 168,7 | 184,1 | 0,86 |
| 15 | 116,9 | 177,9 | 197,0 | 214,9 | 1,01 |
| 16 | 132,0 | 200,9 | 222,5 | 242,8 | 1,14 |
| 17 | 148,5 | 226,0 | 250,3 | 273,1 | 1,28 |
| 18 | 167,9 | 255,4 | 282,8 | 308,5 | 1,44 |
| 19 | 189,8 | 288,9 | 319,9 | 349,0 | 1,63 |
| 20 | 208,9 | 317,8 | 352,0 | 384,0 | 1,80 |
| 21 | 232,4 | 353,6 | 391,6 | 427,2 | 2,00 |
| 22 | 255,3 | 388,5 | 430,2 | 469,4 | 2,20 |
| 23 | 277,3 | 422,1 | 467,4 | 509,9 | 2,39 |
| 24 | 299,4 | 455,7 | 504,7 | 550,6 | 2,58 |
| 25 | 323,5 | 492,4 | 545,3 | 594,9 | 2,78 |
| 26 | 349,3 | 531,7 | 588,8 | 642,4 | 3,00 |
| 27 | 377,1 | 573,9 | 635,5 | 693,3 | 3,24 |
| 28 | 405,0 | 616,3 | 682,5 | 744,6 | 3,48 |