General:
Especially developped for the "Material Handling Industry". Suitable for applications with long lifting heights.
Features:
- Very high lifting and lowering speeds
- Precise variable speed control (cord - and pendant control)
- Compact and light weight
- Mechanical endstop system
- Cord control or pendant control
- Chain bag standard, max. 7 mtr. chain (larger available on request)
- Low noise level

Material:
Aluminium housing

Options:
- SMC air treatment unit: AC40-F04DM-8-B (Recommended).
- European manufacture to EN818-7
- Marine specification
- Special paint systems
- Corrosion protection
- ATEX specification
- Chain collectors (PVC, galvanised or stainless steel)
- Festoon systems
- Radio control
- Main air shut off valve
- ATEX - According to EC Directive 94/9/EC (Ex Classification)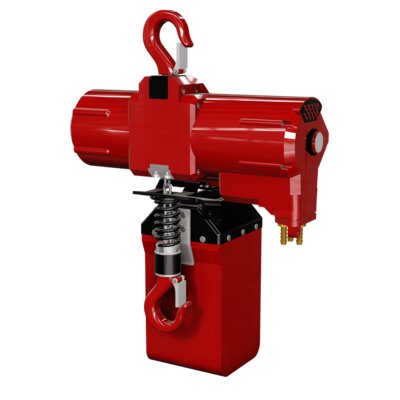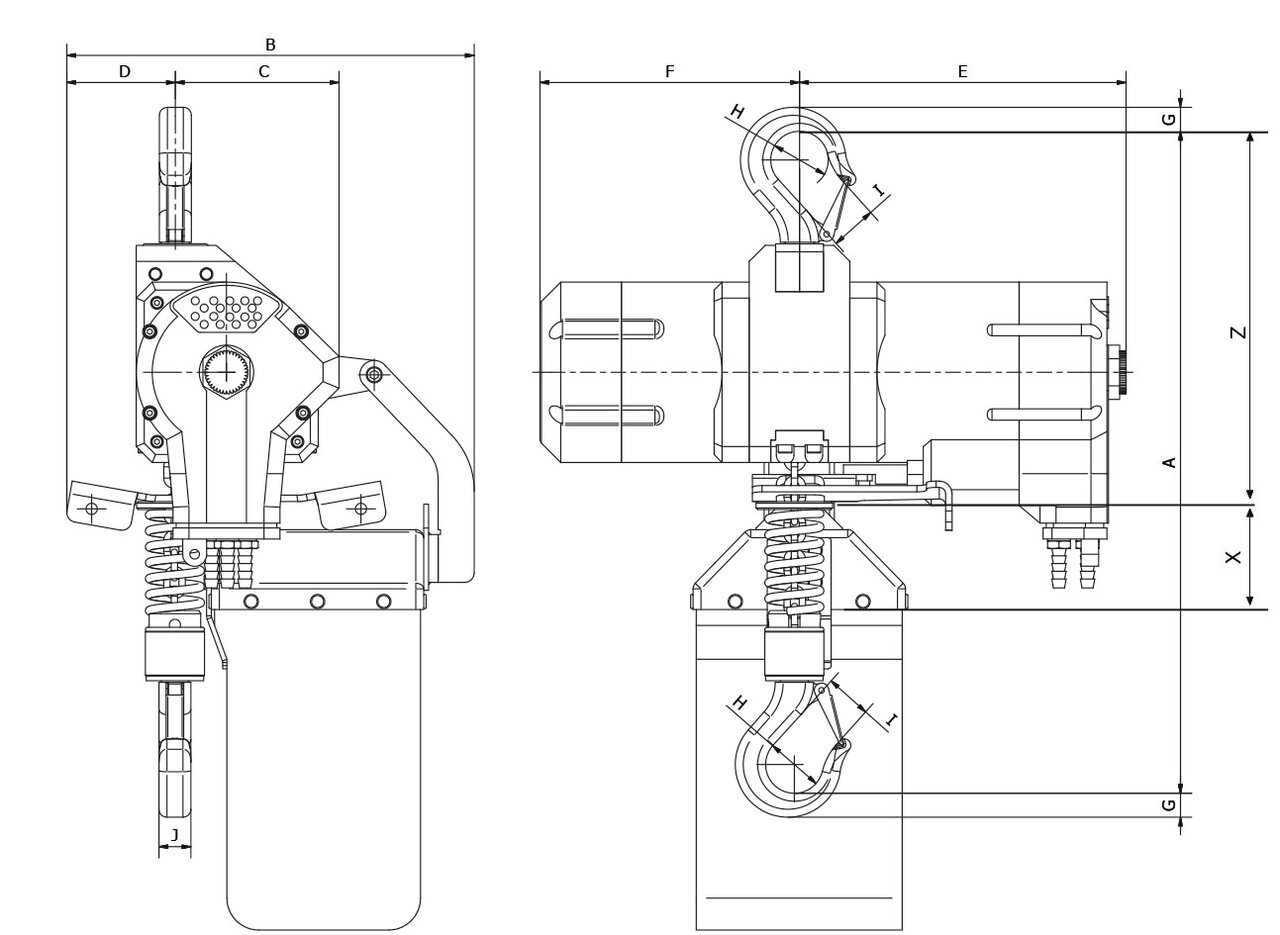 Currently this product cannot be added to an online quote. Please contact us directly for enquires.
| | | | | | | | | | | | | | |
| --- | --- | --- | --- | --- | --- | --- | --- | --- | --- | --- | --- | --- | --- |
| Art. no | code | WLL | Lifting Speed with load | Lifting Speed without load | lowering speed with load | air consumption lifting | air consumption lowering | air connection | min Houe Ø | chain falls | working Pressure | weight with 3m | weigth additional meter chain |
| | | Ton | m/min | m/min | m/min | l/sec | l/sec | " BSP | " hose | | bar | kg | kg |
| 16.23TCS-500C | TCS-500C and TCS-500PE | 0.551 | 17 | 33 | 34 | 28 I/sec | 33 I/sec | 1/2" BSPT | 1/2" hose | 1 (6x3 19,1 mm) | 6 | 19 | 0,8 |
| 16.23TCS-980C2 | TCS-980C2 & TCS-980P2E | 1.08 | 8,5 | 17 | 17 | 28 | 33 | 1/2 BSPT | 1/2" hose | 2 (6x3 x 19,1 mm) | 6 | 24 | 1,6 |
| | | | | | | | | | | | | |
| --- | --- | --- | --- | --- | --- | --- | --- | --- | --- | --- | --- | --- |
| Model | A | B | C | D | E | F | G | HØ | I | J | X | Z |
| TCS-500 | 415 | 255 | 103 | 68 | 205 | 163 | 15 | 35 | 22 | 22 | 40 | 210 |
| TCS-980 | 510 | 205 | 123 | 37 | 163 | 205 | 30 | 40 | 29 | 25 | 40 | 225 |
Download CAD

Description